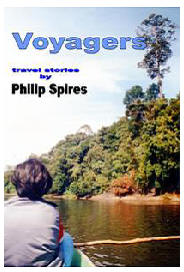 Voyagers is a set of short stories around a theme of travel. They are set in a variety of locations, with all, apart from one, taking place in recent decades. Some of these stories, Strangers, Protesters, Initiates and Victims, for example, have been available since mid-2008 as free downloads from article sites. The full set of Voyagers is now available in book form. The complete stories comprise just over 80,000 words.
Voyagers is now available from createspace.com. It is a set of ten short stories, musings on contemporary themes. All are loosely based on the experience of travel. They are written with grown-ups in mind.
Discoverers is set in Brunei. An expatriate biology teacher sets off with a group of students on a field-trip into the rain forest. Their purpose is to develop an appreciation for the environment, learning by discovery. It is on the trip and during its short aftermath that the teacher, Mr Tony, discovers much about himself and his prospects.
Assessors is set in a distant future, but was inspired by two news reports on a single day. On the day that a new Heathrow Airport terminal could not match baggage with travellers, a professor of Physics described just how close we are to being able to tele-transport whole molecules. Let's hope it's only the luggage that gets lost...
Initiates is another story set in Brunei. An Australian couple feel privileged to receive an invitation to a wedding. They, amongst others, are initiated into a culture that feels far from their own.
Predators begins and ends in a Spanish bar. Three bar-flies muse on their past and one of them decides to write a piece recalling a visit to Vietnam. It was on a holiday to Nya Trang with his Filipina girlfriend that the story-teller shared a hotel corridor with an unsavoury fellow guest. People are preying on others and, years later, the story-teller interprets things anew.
Protesters is set in the United Kingdom, overlooking Parliament Square, Westminster, to be precise. An aged writer with a complex past has been invited to share a speaker's platform with a recently-elected president. Protestations are examined. The story is based upon a meeting between two very well-known figures. I know the meeting actually took place in the location where Protesters is set. This is my version of what may have transpired.
Seers takes place in a bar in Dubrovnik, Croatia, in an era when it was still called Yugoslavia. Austrailian adventurers, having free-wheeled their way across Europe, meet Pavel over their meal. As Pavel reveals more about himself, the travellers grow more uneasy. Their chance encounter courts danger. Or does it?
Strangers is a simple story set on the Devon coast in England. A young couple visit an idyllic village on a break from city life. They find that life for the locals is less than perfect. It is always easier to be open with strangers.
Victims is a series of emails. An aid worker is in Sri Lanka in the early 1990s. Her visits take her to poor places in the north that are racked and wrecked by war. An acquaintance is hurt. She visits him in hospital. But he has other visitors besides her.
Wonderers wanders its way along the Mediterranean coast of Turkey, from Bodrum to Efes and Ephesus. A lifetime ambition to visit the wonders of the world uncovers some of the less obvious wonders of people.
Worshippers takes place in Florence, Italy, in the 1970s. Two culture vultures, a young artist and a not-so-young actor are absorbing the works of Renaissance painters. They have much in common, it seems, especially in examining the motives of those who paint, act, write. It seems that they worship the act of creation, until aesthetics get in the way.